Typical Network configuration: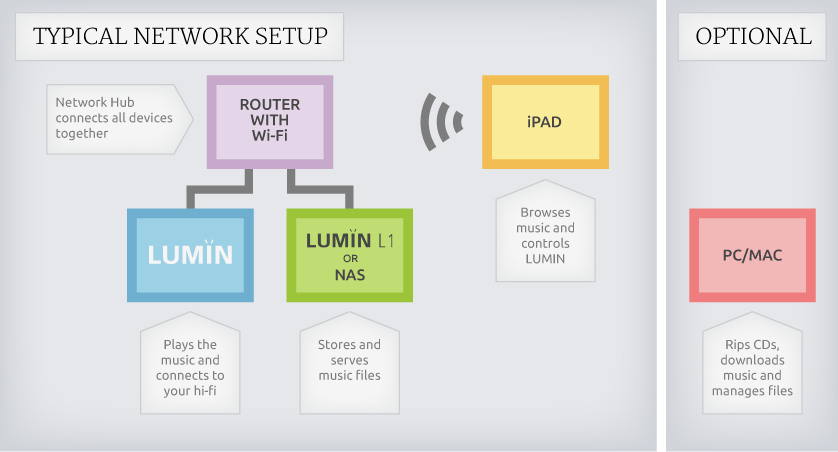 The following components are required for a typical configuration of a LUMIN system:
LUMIN Audiophile Network Media Player.
iPad running LUMIN iPad App.
Home Network including Wi-Fi connection.
LUMIN L1 Music Server or NAS (Network Attached Storage) including a UPnP server (QNAP or Synology are recommended).
Computer (optional) used for ripping CDs, downloading music and configuring the NAS.
Amplifier and Loudspeakers.
Getting started:
Connect LUMIN and the NAS to your network using Ethernet cables.

Make sure your iPad is connected wirelessly to the same network.

Connect LUMIN to your Amplifier using your preferred Audio Connectors.

Connect the LUMIN Power Supply to LUMIN and your Power Outlet.

Turn on all devices.

Make sure there are some music files in the correct folder on your NAS (often called 'Music').

Make sure the UPnP Media Server is started on your NAS. Instructions can be found on the websites of your NAS manufacturer. For example:

Synology instructions

and

Qnap instructions

.

Note:

LUMIN strongly recommend using

MinimServer

instead of the default UPnP server included with your NAS. It supports all the features of LUMIN and much of the development and testing of LUMIN has been performed with MinimServer.

Installation instructions are also available for recommended NAS products from Qnap and Synology:

https://minimserver.com/quickstart.html

.

Start the LUMIN iPad App and it will automatically detect your UPnP Media Server and your LUMIN Audiophile Network Music Player.

If you have multiple LUMIN units or multiple Media Servers, you can choose these from the App 'Settings' menu.

Your music selection will now display in the main LUMIN App browse window where you can now select music to play and create playlists. See

App How-to

and

Settings How-to

pages for further information and instruction.