Fibre Networking
Some LUMIN models include an optical network port intended to provide complete isolation from network digital noise.
The following diagram shows a recommended fibre network installation.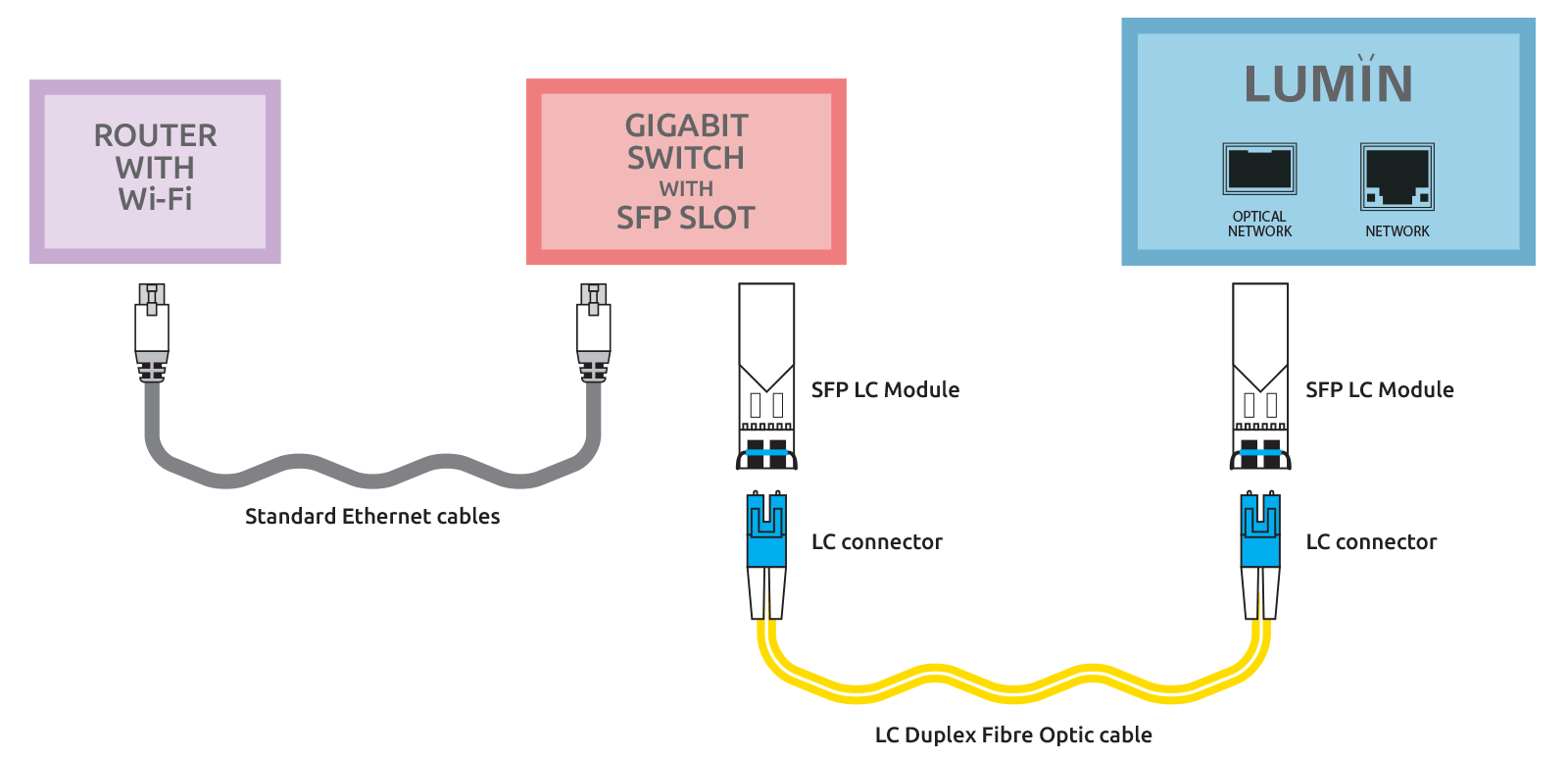 Important notes:
Do not connect both fibre and copper Ethernet of LUMIN back to the switch as this creates a loop and will bring down the network.
If a fibre media converter (FMC) is used instead of SFP switch, the connector type required for the fibre may be different, e.g. TP-Link MC210CS has an SC-type connector instead of LC-type.
For TP-Link Switch users: If you experience optical network connection issues with the SFP in a TP-Link switch, please try different duplex settings (e.g. Auto) in the TP-Link switch.
Single-Mode and Multimode
Fibre network components are available in Single-Mode (SMF) and Multimode (MMF) versions.
Both are compatible with LUMIN models with Optical Network.
However, the network will only function if all components in a chain are the same type.
Equipment links:
From our own testing and from dealer and customer feedback we've assembled this list of compatible components, however it is important that users investigate products themselves to evaluate their suitability for their own network:
This list was last updated 23rd May 2022
Gigabit Switch with SFP slot

e.g. Trendnet TEG-S51SFP v1.1 (Amazon link)
SFP LC Modules

A pair of the same brand and type of single-mode 1310nm SFP modules
e.g.
StarTech SFPGLCLHSMST
or
10Gtek ASF13-24-10
Note:
1. SFP module needs to be compatible with the chosen SFP switch (e.g. If a Cisco switch is used, the SFP module must be Cisco compatible).
2. LUMIN does not support SFP+
Fibre optic cable

LC-LC single-mode 9/125um Corning duplex fiber
e.g. Corning ClearCurve or FS.COM