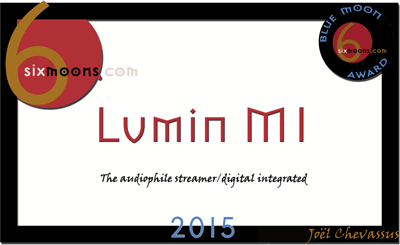 Award for LUMIN M1 - 6moons Blue Moon Award
During the review Joël Chevassus states:
The Lumin app is amongst the very best available.
In terms of power efficiency and vividness, the results were frankly astounding.
It's the only all-in one device I know of that is able to compete with a high-end chain for a fraction of its cost.
high resolution, real drive and well thought-out ergonomics.
I could very honestly live forever happily with the Lumin M1 and my Vivid Giya G1.